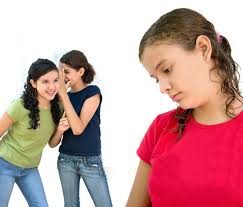 By Sandra
My daughter started her first year in secondary school with joy and excitement.  At age 13, she was proud to be seen as more an adult than a child.  Her happiness, however, was short lived.  By mid January, she shared that her classmates were rude, used profanity and disturbed the class regularly.
She asked me if she could be home-schooled.  I told her to view the situation in a positive light, that she was placed in that class to help and guide others.  Did I do right?  I don't have the answer but this is what I came up with to deal with the situation.  My girl did her best to encourage others to stop smoking and to refrain from sex. She tried to mediate disputes.  She didn't just "mind her own business" as she was also a student leader.
Then my girl started to send me texts about how meaningless life was and how empty she felt.  I brushed aside these messages, replying that she needed to learn to be grateful for what she had, to learn to be positive, optimistic and independent, and to learn ways to manage in school and life.  She asked me how she was to do this at school, where she did not want to behave in a bad way but had to, in order to fit in.  Though she asked me how to reply to her friends' rude remarks, I did not realize then that she was being bullied.  She did not want to upset me, and she was probably ashamed to say she was a victim.
I quit my job when she became suicidal and cut her wrist to numb her pain.  At a meeting with my daughter's teacher I was told that three girls she hung out with were a bad influence; one of them was my daughter's best friend.  I decided the teacher was mistaken as I had met the girl before. When I asked my daughter, she maintained they were fun to be with.  (She confessed months later that she was afraid to tell me the truth because I would have reported it; she was afraid of retaliation.)
Was I dense to believe my daughter? Should I have looked into this further?  Did I take the path of least resistance? In some mystical way, I believe God had a part to play, to use this case for increasing public awareness.
In her second year, my daughter's complaints about school continued, and I started to notice she kept asking me for money, for "books and school supplies."  She was easily agitated and threw tantrums at the slightest provocation by her brothers, or when we hinted the slightest doubt about her words.  She became obsessive about her phone and couldn't stand it being taken away as punishment.  Her grades dropped.
My Daughter Finally Admits She's Being Bullied
My daughter finally confided around mid-year exam time that her friends bullied her.  Her initial acts of kindness of returning their lunch trays had become her daily job.  When she tried to get the others to return their own trays, she was harassed.  Money was stolen from her purse and her mobile phone was taken to send hurtful texts to me. (They pretended to be her.)  She had no privacy and was used as a punching bag when they were in a bad mood.  I'd see marks on her hands and body, and she would always say she fell or hit against something.  These three girls ridiculed her in class for things she didn't do and spread false accusations on social media.  After school they refused to let her go home and used her mobile to lie to me about school functions. She could not stand up to them as she was outnumbered.
My daughter finally told me because just before entering the examination hall for her midterm test, her "friends" told her that they prayed she would fail.  This verbal abuse finally got her to tell me.
My daughter wanted to change schools and threatened to kill herself if I did not allow it.  She said her friends were masters of deception; even their own parents were deceived.  They refused to believe the teachers' feedback regarding their child's misbehavior.  These girls tarnished her reputation and no one dared to stand up to them.  She was alone and depended on them for companionship.
I did not like the idea of running away rather than facing and overcoming the issue but I gave in because this had dragged on for a year and a half with no resolution in sight.  We submitted transfer requests to four schools; I had to convince the Vice Principal to sign the release form.
Because my girl's grades were poor, none of the schools were willing to accept her, except for a private school whose fees were exorbitant. Hence I was thankful when the Vice Principal of her current school called, asking to discuss various ways to help her.  I told my daughter, who had sworn never to step foot in the school again, that she had to meet with the VP as part of the transfer process.  This way the VP could at least initiate the discussion about helping her.
The VP was a seasoned educator. He shared how he too needed a mentor to help him in his work; that life was about learning, making mistakes and standing up to walk and run again.  He convinced my daughter to give it another shot.  Because she was still afraid of the girls, she refused to divulge their identities.  She also made me agree not to identify them as a condition for her returning.
My daughter was assigned a school counsellor to meet with daily, a change in seating arrangements, and her teachers were informed to watch out for her.  A plan was discussed to change her class but because my daughter said this would arouse the girls' suspicions, it was shelved.
Small Changes Did Not Help
These measures failed to help because the identities of the girls were not made known.  The irony was that the teachers had asked them if they knew the bullies; they feigned ignorance.  These girls went wherever she went. When the school counsellor texted to meet with my girl, they accompanied her to the counselling session and she wasn't able to share freely.  The counsellor thought the girls were her good friends.  Everyone did—which was why the changes were ineffective.
At this time my daughter's emotions became a rollercoaster. Sometimes she smiled and said she resigned herself to accepting the situation, just to keep the peace. Other times she became agitated and demanded to change schools again.  That's when I decided to report the girls' identities without my daughter's knowledge.
Time To Take Drastic Action
I had listened to my daughter's hopes of avoiding a full-blown incident but my gut feeling said it was the time to take direct action. We had done our best and the next right thing to do was to identify the three girls; it would move things forward.  I was prepared to pull my girl out from this school if necessary.  I'd go back to work and pay for the private school if I had to.  There's always a solution if we're motivated to do something about it.
The Principal assured me the students would stop the poor treatment once it was officially reported.  She was so wrong.  The Disciplinary Teacher told me how the girls cried in front of her (allegedly in remorse) but despite warnings, they continued the tormenting.  My daughter was on verge of a breakdown.
Three days after the official report, my husband went to school demanding radical change.  That evening, I received a call from the Vice Principal. My girl would attend a new class the next day, the best class of that level where the students were more mature, friendly and thoughtful.
Miracles Do Happen
Miracles seem to happen when one finally makes a stand, despite the long bumpy road.  For the first time in the school's history, a student transferred to another class, in the middle of the year, and within a day's notice.
Another miracle is that the new teacher was my daughter's number one choice for a teacher. The class burst into applause as my daughter walked in, and she was seated with the kindest of students who accompanied her wherever she went in school. My girl was overwhelmed with the stark contrast between the classes.
For the first time in many months my girl comes home from school to do her homework with utmost earnest; she's working hard to catch up academically.  She smiles and laughs, plays with her brothers and is in good spirits.  I'm still helping her cope with encounters with the three girls, encouraging her to make new friends, and guiding her to be assertive.  Her new teacher and the school counsellor are guiding my daughter.  The three girls undergo counselling.
Because of my daughter, the school held talks during assembly to increase the awareness of bullying.  More students stepped forth to report bullying and the school added counsellors to their staff.  The school also invited Jon Pritikin, a 2009 Guinness World Records Holder who shares an anti-bullying message in the United States and around the world, to speak.  His message touched many students and united the school in its stand to help both bullies and their victims.
I learned that kids are not a "nuisance," even though from the parents' viewpoint they seem so sometimes.  Their behavior is an outward display of what's bothering them inside, just like our body's pains echo internal imbalance that requires our attention.  Do we love our kids enough that we would change ourselves and put in the time, attention and effort to be there for them?  I am grateful I did eventually.  Fear once conquered allows blessings to flow on one's journey to seek love, truth and wisdom.
About the author: Sandra is the mother of three kids and prefers to remain anonymous. Her family lives in Singapore.
Photo Credit: Karen Vlietstra's Flickr